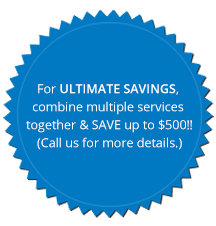 Weekly Pool Cleaning Service
*EARLY-SEASON SAVINGS OF YOUR FIRST MONTH FREE. CALL FOR DETAILS.*
Includes scheduled weekly appointment to test water, adjust chemical levels as necess
ary, vacuum pool, skim water surface, clean pool filter, over-all pool equipment & system check.
Pool Openings
*EARLY-SEASON SAVINGS OF $20-$40. CALL FOR DETAILS.*
Includes removal / folding of cover; reinstallation of rails / ladders; reassembly of pool equipment; start-up of system; addition of chlorine shock & algaecide.
Automatic Pool Cover Cleaning
Includes scrub-down of cover w/ special cleaning agent followed by application of clear-coat protectant with stain inhibitor. Cover box & tracks are also cleaned.
Automatic Pool Cover System Check-up
Includes lubrication of all fittings & pulleys; complete adjustment of cover for smooth / even operation; tightening of track screws.
Pool Deck Clean & Seal
Includes high-pressure wash of pool deck and application of acrylic seal coating.
Pool & Patio Detail Package
*EARLY-SEASON SAVINGS OF $50. CALL FOR DETAILS.*
Scrub water & pool coping; polish all rails; clean inside of skimmer(s); clean & touch-up pool equipment & surrounding area; unpack/clean patio furniture (up to 12 pieces)
Pool Closings
Includes vacuum & leaf removal (dlx.only), application of shock treatment & winter algaecide into pool water, removal of water from plumbing liner PLUS addition of antifreeze*, removal of rails, winterization of auto cover, winterization of all pool equipment. (*Cost of antifreeze is additional)